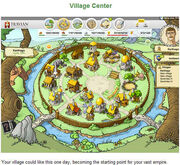 Travian 4 (now known as Travian: Legends) was a large update to Travian that introduced new graphics and overhauled to the hero system.
New features
Edit
Completely new graphical interface
Adventures for Heros
Hero Equipment & Silver currency rewards
Auction House for Hero Equipment
Rally point: only 5 troop movements (attacks, raids and reinforcement orders) per building level
Status icons for reports, to identify easy attacks without losses, trades etc
Research loop for armoury and blacksmith
Enough resources at.... and "capacity" after raids shown without PLUS (and for academy, armoury and blacksmith)
Direct link to the NPC trade
Direct link to "instant build"
10% off and def bonus removed (only NEW Servers)
PLUS cost down from 15 gold to 10 (only NEW Servers)
Graphics for artefact's and resource fields
Village and link panel can be collapsed
Gold Club:
Gold Club costs 100 Gold for whole server time.
If the server is more than 250 days old, the Gold Club price is reduced by 1 gold for each additional day (minimum price is 1 gold)
Master builder prepare three more buildings in loop even without enough resources, cost 1 gold for each
Features of the Gold Club:
Merchants run three times (if selected)
Farm list - you can setup to easy find and attack your farms
15 and 9 cropper finder with oasis bonuses filter
Farm statistics easy overview how effective your raids to a specific village have been
Features formerly in the PLUS Account, now free for all players:
Enough resources at.... shown without PLUS (also for academy, armory and blacksmith)
Changes for the PLUS Account:
Lowered price for PLUS Account from 15 gold to 10
Research loop for armoury and blacksmith
10% off and def bonus removed (to remove the possibility to buy a combat bonus for Gold)
Ad blocker interference detected!
Wikia is a free-to-use site that makes money from advertising. We have a modified experience for viewers using ad blockers

Wikia is not accessible if you've made further modifications. Remove the custom ad blocker rule(s) and the page will load as expected.